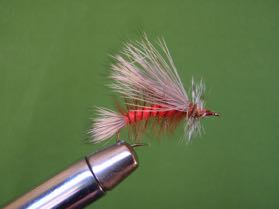 The Blackwater River truly lives up to its reputation as one of British Columbia's best dry fly rivers.  You can expect to catch anywhere from 15-30 rainbow trout on a sunny day.  The average size of trout is around 12" and the odd monster around 16".
The best time to fish the Blackwater River is in August but if you get lower water levels earlier in the year, you can expect some spectacular fishing in late June after the river opens and into July using big bushy dry flies.
Access is limited to the three bridge crossings or through private land if you know the owner. Nevertheless, fishing can be quite good at the bridge crossings, but the best way to fish the river is to float it in a pontoon boat or bigger raft. 
A 8'6" for a 3 wt to 9' for a 4 wt rod is ideal for this river with a good supply of Stimulators and Elk Hair Caddis.  Use a 4 wt earlier in the season when the water levels are higher and fish with larger flies like big Stimulators, and then a 3 wt later in the season.  Studded wading boots are also a good idea as the rocks in this river are covered in a fair amount of slippery stuff.
The Blackwater River has lots of stoneflies and caddisflies and to a lesser extend mayflies.  Evidence of this is the fact that the most successful fly patterns are: #6 Orange or Yellow Stimulator, #12 High Water Caddis, #14 Rusty Caddis, and #8 Ginger Stonefly Nymph.  The only time I had real success using Mayfly imitations was when there was a sizeable hatch of mayflies.