Recipe:
Originator: Danie Erasmus
Date: 2007
Hook: #12-14 Mustad 94840 
Thread: 8/0 black
Tail: Natural Mallard flank fibres
Body: Black superfine dubbing
Ribbing: #6/0 tan thread
Wing: Natural Mallard flank fibres
Hackle: Two dark blue dun hackle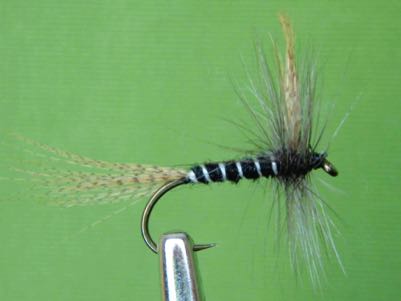 This pattern was developed to imitate the imago or spinner stage of mayflies.  
Most mayfly spinners seem to have darker shinier bodies with clear transparent wings.  This is very much unlike the subimago or dun stage where the body colour vary quite a bit and the wings are opaque.