Recipe:
Originator: Danie Erasmus
Hook: #18 Mustad 94840
Thread: 8/0 olive
Tail: Dark dun hackle fibres
Abdomen: BWO dry fly dubbing
Hackle: Dark dun hackle
Wing: Gray dun poly yarn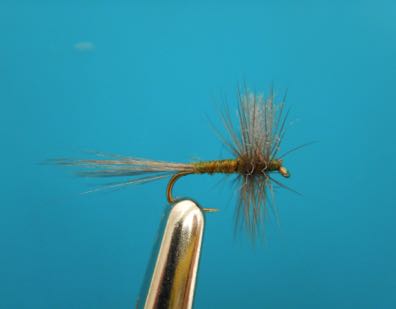 The name Blue Winged Olive (BWO) is a common name given to several species in the Baetidae family. BWO mayflies are named for the dun stage as it has an olive body and opaque blue-gray coloured wings. As BWOs are small, most anglers avoid imitating the nymphs and focus on the adults using dry flies tied on 16 and 18 hooks.