If you ever plan to fish within a 200km radius from Prince George then this is the book the consult. The information presented by the author is based on his experience over the last 25 years of fising the lakes and rivers in the Prince George area. Apart from providing information on some good lakes and streams to fish you can choose from 80 proven fly patterns, reflecting 40 years of experience at the bench.
Additional chapters to complement the introduction to North-Central BC include chapters on the species of game fish in the region, and entomology to make this book the complete package as a guide for Prince George fly-fishing.
Brian also has a second book out entitled:
Seasons of a Fly Fisher: Fly Fishing Canada's Western Waters
ISBN: 978-1-927575-05-5
published: 2013
Both books are available in local book and fishing stores in Prince George.
Fly-Fishing BC's Interior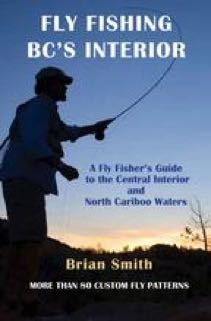 A book review: Fly Fishing BC's Interior, A Fly Fisher's guide to the Central Interior and North Cariboo Waters
by Brian Smith
ISBN: 978-1-894759-35-9
published 2009